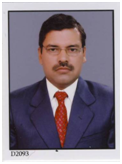 Dr. Jitendra Kumar Shukla
 SCIENTIST-E (Bioresource Management)
Contact Info:
Phone: +91-9475040142
Office: +91-364-2561600
Email: shuklajk2000[at]yahoo[dot]co[dot]in
Research
Area of research: Ecology and Bio-prospecting of Phyto-resources.
Research Interest: Plant eco-physiology, Plant ecology, Abiotic stress tolerance, Agronomy, Agro-techniques, Plant diversity, Conservation, Bio-prospecting and Extension.
One of the challenges of conservation and sustainability of medicinally important and commercially utilisable plants in North-eastern region (NER) of India is identification of their ecological niches and the amplitude of distribution. Unfortunately, very few studies have been considered on niche separation along environmental gradient in NER. The spatial distribution of plant, sensitive habitat and degree of habitat niche specialization are some major aspects which need research introspection. Ecological and adaptive study and their findings are important in the development of management strategies for conservation & sustainability through cultivation and are especially relevant in NER. For conservation of medicinally important and commercially utilisable plants, ecological study comprising of habitat, population distribution, niche environment, variability (phenotypic, chemotypic and genetic) within species, germination, growth pattern and phenol-phases need to be conducted. The eco-physiological parameters of plant in natural environment and in newer environment in which they are introduced needs to be undertaken to study the adaptability, performance variability and evaluation of plant species. For effective conservation and to introduce these plants in agriculture there is also need to develop and standardize location specific agro-techniques.  Conservation and cultivation of medicinal & aromatic and commercially utilisable plants of NER are required to go with ecological evaluation, adaptive study and agro-technology development. To have an economic outlook for sustainability and to harness the potential of plant resources of NER, research based on issues prioritized above is undertaken.