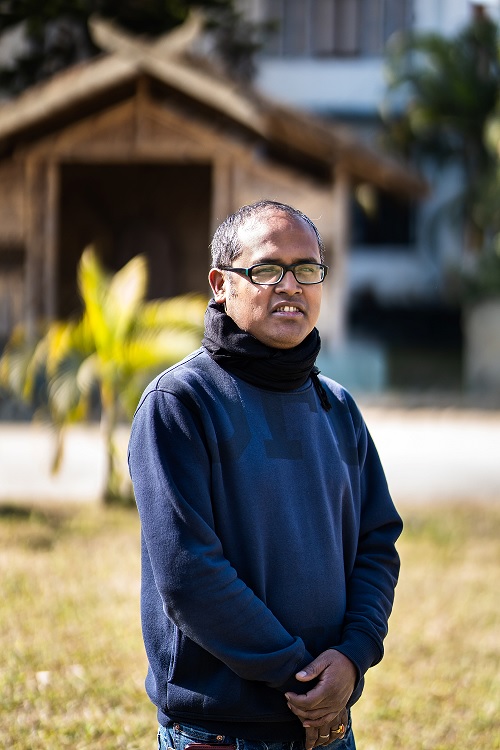 NANAOCHA SHARMA, PhD
Scientist E
QUALIFICATIONS:
Ph.D. Molecular biology (2012) – University of Torino, Italy
M.Sc.   Biotechnology  (2005) – Barkatullah University, Bhopal, India
ACADEMIC POSITIONS: 
Scientist E : March 2017 – till date at Institute Institute of Bioresources and Sustainable Development, Imphal, India
Ramalingaswami Fellow : April 2017- March 2019 at Institute of Bioresources and Sustainable Development, Imphal, India
Postdoctoral fellow : April 2016- March 2017 at Cincinnati Children's Hospital, Cincinnati Ohio, United States
Postdoctoral fellow : April 2014 - April 2016 at Weizmann Institute of Science, Rehovot, Israel
Visiting Scientist : April 2012 – April 2014 at Weizmann Institute of Science, Rehovot, Israel
AWARDS AND RECOGNITION :
Ramalingaswami Re-Entry Fellowship: (April 2017-2022)
Early Career Research Award by DST 2018-2020.
Marie Curie ITN Fellow (Experience Researcher) 2012 - 2014.
Italian Government Scholarship 2006-2007.
The rising incidence of Head and Neck cancers among the North East Indian Population necessitate understanding the molecular mechanisms behind the origin and to discover the new drugs. Taking the advantage of being at the biodiversity hotspot, our lab is using the Bioresouces (cyanobacteria and plants) available in the region as a source of drug. A major part of my lab research is focused on understanding the molecular mechanisms of these biologically active natural products on different cancer cell lines especially Head and Neck cancer. We are particularly interested in examining the early events in cell signalling and downstream signal propagation by using integrative approach of biochemistry and cell biology.
The other work of my lab includes Structure function relation of type 1 interferon and production of type 1 interferon mutants for intervention in disease burden. At present our lab has four graduate students, one postdoctoral fellow, one research associate and two project fellows.
PUBLICATION:
Hongchun Li*, Sharma Nanaocha*, General I.J, Schreiber G, Bahar I. (2017). Dynamic Modulation of Binding Affinity as a Mechanism for Regulating Interferon Signaling. J Mol Biol. 4;429(16):2571-2589.
Grasso S, Chapelle J, Salemme V, Aramu S, Russo I, Vitale N, Verdun di Cantogno L, Dallaglio K, Castellano I, Amici A, Centonze G, Sharma Nanaocha, Lunardi S, Cabodi S, Cavallo F, Lamolinara A, Stramucci L, Moiso E, Provero P, Albini A, Sapino A, Staaf J, Di Fiore PP, Bertalot G, Pece S, Tosoni D, Confalonieri S, Iezzi M, Di Stefano P, Turco E, Defilippi P. (2017). The scaffold protein p140Cap limits ERBB2-mediated breast cancer progression interfering with Rac GTPase-controlled circuitries. Nat Commun. 16;8:14797.
Chmiest D, Sharma Nanaocha, Zanin N, Viaris de Lesegno C, Shafaq-Zadah M, Sibut V, Dingli F, Hupé P, Wilmes S, Piehler J, Loew D, Johannes L, Schreiber G, Lamaze C. (2016). Spatiotemporal control of interferon-induced JAK/STAT signalling and gene transcription by the retromer complex. Nat Commun. 5;7:13476.
Sharma Nanaocha, Longjam G, Schreiber G. (2016). Type I Interferon Signaling is decoupled from Specific Receptor Orientation through Lenient Requirements of the Transmembrane Domain. J Biol Chem. 12;291(7):3371-84.
POSITIONS
Students with M.Sc. or PhD degree in Life science are welcome to apply to our Ph.D. and post doctoral are encourage to apply in different projects going on in our lab. Candidates with experience in molecular biology, cell biology, biochemistry and bioinformatics will be preferred. 
Interested candidates should contact me at sharma[dot]nanaoch[at]gmail.com